Photo Gallery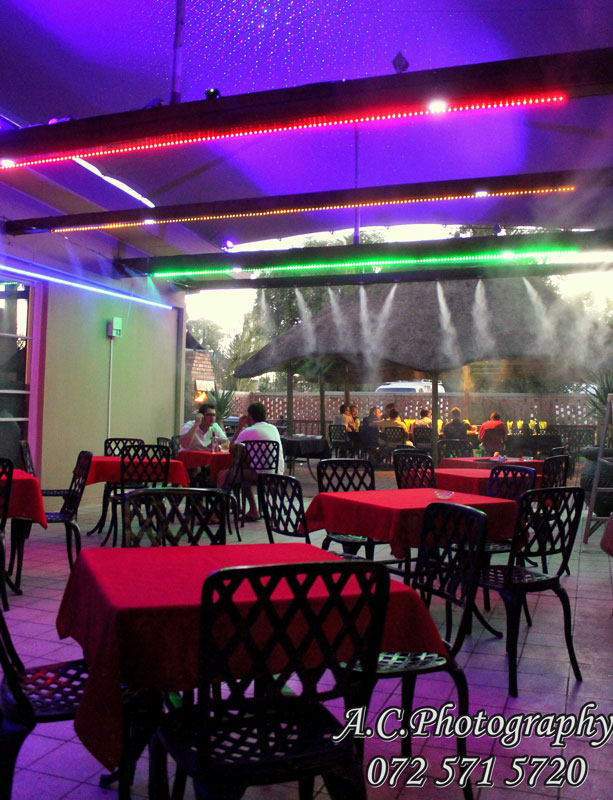 Treat yourself to a choice of succulent meals from our exceptional a la carte restaurant that serves all meals and in-between. Enjoy our Buffet meals every first and third Sunday of the month.
RESTAURANT HOURS
Monday to Friday: 07:00 - 21:30
Saturday: 08:00 - 22:00
Sunday: Breakfast: 08:30 - 10:30
Lunch: 12:00 - 14:30
Dinner: 18:00 - 21:00

We specialise in the following for any  small or big event :
A la carte
Take aways
Buffet
Catering for all types of functions (on site)
Weddings
Birthdays
Conferences
Business lunches
Etc
There is an old Bushman saying: "Once you get the sand of the Kalahari in your shoes, you will keep on returning". We hope in your case this proves to be true.
This is HOME away from HOME
Welcome to the Kalahari Sushi & Cocktail Bar!

This is where sushi master, Gerrie de Beer, our Sushi Chef will treat you to the best sushi experience you ever had! With numerous articles by several of our countries top food and wine journalists claiming this to be one of the best sushi bars they visited internationally, a TV appearance or two, and rated as one of the top 100 restaurants in South Africa, this is a must to experience! With the added luxury of a Cocktail Bar this is an experience second to none.
Quiet and deserted; surrounded by vineyards and desert. It is in this atmosphere of tranquility and solitude that you will find what you least expected and what is known as perhaps the most remote sushi bar in South Africa. With colourful Eastern lanterns, conveyor belt to bring the sushi right up to where you sit, chopsticks, soy sauce, fresh fish flown in from Cape Town every second day and Japanese wine (Saki), this is far more than a restaurant, it is an experience never to forget! And you can even purchase your own sushi starter pack here! Enjoy your sushi while relaxing at the sushi bar, or take in on the go. We have now incorporated a Cocktail Bar with our Sushi Bar to enhance your experience when visiting our hotel.
SUSHI BAR HOURS
(If you are travelling far, give us a call and ask to speak to Gerrie to avoid disappointment)
Monday to Friday: 12:00 - 22:00
Saturday: 15:00 - 22:00
Sunday: 12:00 - 15:00